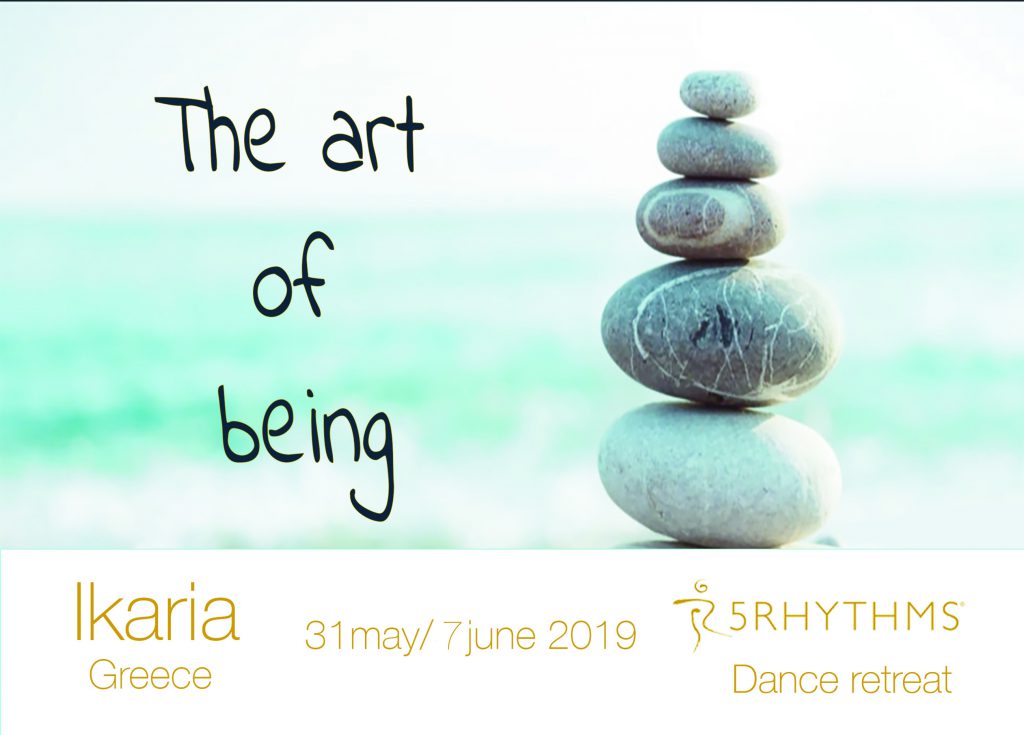 Ikaria, a little gem in the blue zone. A healing place where time slows down and life invites you to be present with the elements.An inspiring environment for a 5Rhythms workshop on presence and the art of being in the moment. 
To be present means that we are awake and open to what is happening here and now. We will move and work with the energy in and outside of us in the moment. This dance/meditation workshop will relax and challenge you to create a form of art inspired by the surroundings and the elements presented by the nature of this beautiful island. 
We invite you to write, draw, make landscape art or meditate during your free time. We will dance in the morning and late afternoon. After a great lunch you are free to explore the island and enjoy the tranquility and the immense beauty of mother nature. We will stay at a nice hotel 3 min walking distance from the venue.Breakfast and lunch are included. The only thing you have to do is pack a bag and book a ticket! Let's dance, relax, explore and create!
Teacher: Jup jansonius 5Rhythms waves/heartbeat, trainer/coach: Jup's earthy but light teaching style combined with magical music, her sense of creating a sacred athmosphere and her challeging way of seeing things makes you wanna dive in deep and connects you with an inner power you knew you had but didnt know how to reachAssisted by Lonneke Zintel: Lonneke is a dedicated dancer, coach and knows the island pretty well
Starts: May 31st ends June 7th Includes:- 7 nights at Karras Star Hotel incl breakfast and pool- 6 superb vegetarian lunch buffets at the venue- 5 Rhythms waves Workshop with Jup (Amsterdam)-Free wifi/cleaning/water/tea#- German, Dutch,English, Greek, Spanish guidance
Price:
Early bird if paid by 1th of may € 1050 double room
After 1th of may € 1200
Singel room available + € 175
spread payment possible
only 22 spots available
to reserve your spot you will pay a deposit of € 100 immediatly!
Cancellation policy :
If you have to cancel:
If you have to cancel before 1th december € 90 will be refunded
if you cancel between 1th december and 15 th of januar it wil coast € 100
if you cancel between 15 th of januar and 1th of march you pay €200
If to you have to cancel between march and 1th of may you pay € 300
After that you have to pay the full price
I advise you to get a travel and cancellation insurance